This past Friday was the passing of Marty Sklar, a Disney Legend and Imagineering Ambassador. Sklar worked closely with Walt Disney and helped bring Disney's creative vision to life. He had even been involved with the opening of all eleven Disney Parks!
Sklar started working with Walt Disney in 1955, hired as an intern to on create The Disneyland News for Disneyland. In 1956 he joined Disney full-time and later went on to be Walt Disney's right-hand man, writing speeches and marketing materials. He continued on his career joining WED Enterprises (now Disney Imagineering) achieving awards and the title of Executive Vice President and Imagineering Ambassador before his retirement in 2009.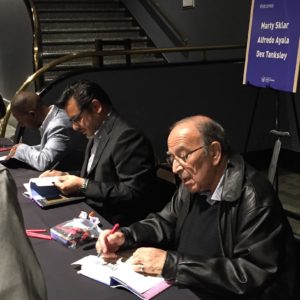 Last year I was fortunate enough to receive some last minute tickets to the sold out event: One Little Spark! A Conversation with Marty Sklar at the Museum of Science and Industry in Chicago.
Marty Sklar was joined on stage by two other Imagineers. Alfredo Ayala who leads the Research & Development at Walt Disney Imagineering, and has come up with innovative effects for many attractions at Disney Parks. Dex Tanksley who is Disney Imagineer and Project Design Manager responsible for translating creative ideas into dimensional attractions and rides at Disney Parks.
Sklar spoke about his history and experiences with the Disney corporation and went into detail of this latest book, One Little Spark!: Mickey's Ten Commandments and The Road to Imagineering.
After the lecture, I was able to meet Marty Sklar and have his book signed. Since the event I have read Sklar's book and here is my synopsis.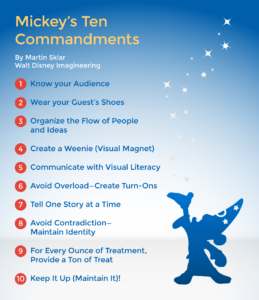 The first half of the book is about is about Mickey's Ten Commandments. These are the guidelines and principles that he developed for Disney Imagineering. Sklar provides examples for each of the commandments, a success called a "Mousecar" (much like an Oscar) as well as a failure called the "Goof". These examples provide an inside look at how rides and attractions are developed for Disney Parks and how they either are triumphant or a blunder. The commandments are good practices for any creative company or any business for that matter.
The second half of the book has personal stories from seventy-five past and present day Disney Imagineers. Sklar reached out to the Imagineers to describe the paths that lead them to Disney Imagineering as well as their advice and recommendations for those who want to follow in their footsteps. Some of the stories seem repetitive but that only helps reiterate the message behind them. The stories give you a behind the scenes view of what it is like to work for the Disney company, they are an inspiration for any aspiring creative out there.
I highly recommend his book for any creative out there, his processes and ideas ring true for all sorts of creative industries. I keep a copy of Mickey's Ten Commandments posted up in my cubicle at work as a constant reminder to apply these principles to each project I work on.
Marty Sklar's passion and enthusiasm for his work was and still is an inspiration. May his spark live on and inspire generations to come. My thoughts and sympathy go out to the Sklar family.